The Edicates
Early 1965 to Feb 1970
(L to R) Cataline, Fitzgerald, Fox, Fleischer, Finks - c.1966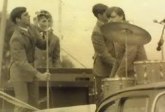 On a float at the Reynoldsburg tomatoe festival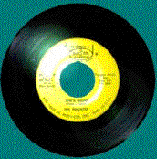 She's Gone - Worried Mind Fleischer-Cataline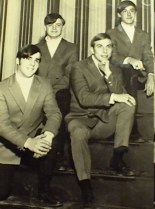 (L to R) Tim, Glen, Mike, Joe c.1967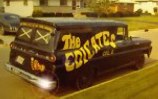 Armed and dangerous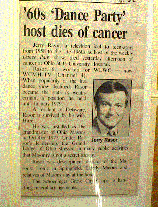 WLWC's Jerry Rasor dies at 61
The Edicates
Original Members:
Tim Fleischer - Rhythm Guitar and Backup Vocals
Glen Cataline - Drums and Lead Vocals
Mike Fitzgerald - Bass (from beginning to mid 1968)
Jim Fox - Lead Guitar (mid 1965 to March 1966)
Changes:
Mike Finks - Organ and vocals (added May 1966 to early 1969)
Joe Dodge - replaced Fitzgerald on bass (mid 1968 to 1970)
Tim Fleischer - replaced Finks on keyboards mid (1969 to 1970)
Richard Shaffer - added rhythm guitar (late 1969 to Feb 1970)
Larry Gates - replaced Shaffer - took on Lead Guitar from Fleischer
(Feb 1970 to Dec 1970)
Bio:
The Edicates were formed in 1965 on the old south side of Columbus, Ohio. Original members were Tim (Punk) Fleischer on rhythm guitar, Glen Cataline on drums and vocals, Mike Fitzgerald on electric bass, and Jim Fox on lead guitar. Jim was the only member not from the south side. Early in 1966 Jim Fox was fired, which required Tim to assume the lead guitar position. Fellow south-sider Mike Finks was added as the groups first organ player soon after Fox's departure.
The band quickly learned to play cover songs by groups like The Kingsmen, The Ventures, The Shadows of Night, The Yardbyrds, and the Rolling Stones. Playing for mostly private parties in the beginning, they were excited about playing their first public gigs at venues such as: The Château (Arlington Arms), Lockbourne Air Force Base (later Rickenbacker Air Base), Veterans Memorial Auditorium, Reynoldsburg Skating Rink, and the old Rollerland Skating Rink, at 18th and Main Streets.
In 1966 they won a battle of the bands contest at Rollerland that landed them a recording contract with Musicol Studios in Columbus. Soon after recording two originals written by Fleischer and Cataline (Side "A" - She's Gone & Side "B" - Worried Mind), Joe Dodge was hired on as bassist to replace Mike Fitzgerald. In 1968 the band became the WLWC-TV4 Dance Party house band. On Saturday mornings they would take the stage with local celebrity Jerry Rasor, to broadcast Columbus' own version of American Bandstand. Mike Finks left the band in early 1969. The shortage of keyboard players prompted Tim to give up lead guitar in favor of the Hammond organ. Ever since Mike Finks first joined the band, Tim had been drawn towards the keyboard. The band auditioned new lead guitar players and Larry Gates formerly of the Metronomes was hired on in 1970.
At a time when there were garage bands on nearly every street corner, hard work and dedication enabled The Edicates to rise above "garage band status". They gigged all over the state and frequently traveled to surrounding states doing bars, parties, and fraternity houses.
The band played a hundred gigs each year in 1969 and 1970 at places like: The Sugar Shack-Columbus, Club Kno Place-Newark, Sportsman Bar-Sandusky, Mustang Club-Dover, Club 21-Cochocton, Sunset Club-Mt. Vernon, PaPa Joes-OSU campus, Glass Bar-Lancaster, Our Place-Defiance, Hullabaloo-Columbus, Upper Deck- Columbus, Casa Loma-Cambridge, The Purple Onion-Gahanna, La Roc-Columbus, The V2 Club-Parkersburg W.Va., and virtually every frat house at OSU and the surrounding Ohio colleges.